PENGARUH TEKNIK RELAKSASI GUIDED IMAGERY TERHADAP KUALITAS TIDUR PADA LANSIA DI UPT PELAYANAN SOSIAL LANSIA BINJAI
Indra P P

STIKes Santa Elisabeth Medan

Linda F Tampubolon

STIKes Santa Elisabeth Medan

Samani Ndruru

STIKes Santa Elisabeth Medan
Keywords:
Relaxation Guided imagery, sleep quality, the elderly
Abstract
Complaints about night-time sleep difficulties often occur among the elderly. Difficulties in sleep that affect the quality of sleep of elderly are still many elderly people often have woke up.Guided imageryis a non farmokologi therapy is often used to treat sleep disorders andcan is useful to reduce anxiety, pain and facilitate good sleep quality. Goals : This study aimed to determine the effect of guided imagery relaxation technique on quality of sleep in the elderly in social services UPT Elderly Binjai. Method : This research method using one-group pre-post test design test. The sampling technique is purposive sampling, with a sample of 20 respondents. Measuring instruments used PSQI questionnaire. Result : Analysis of the data shows the results of the sleep quality pre-test all elderly experience poor sleep quality (100%) and post-test were experiencing good sleep quality as much (10%) and poor sleep quality as much (90%). The results showed that guided imagery relaxation techniques affect the quality of sleep in elderly UPT Elderly Social services Binjai p = 0.001 (<0.05). Conculsion : Researchers suggest to the elderly in order to continue the selfguided imagery regularly.
References
Bigham, E., McDannel, L., Luciano, I., & Salgado-Lopez, G. (2014). Effect of a brief guided imagery on stress.
Biofeedback, 42(1), 28- 35. Creswell, J. (2009). Research Design Qualitative, Quantitative AND Mixed Methods Approacher Third Edition : American : Sage
Dahlan, M. S. (2009). Statistik untuk kedokteran kesehatan. Jakarta: Salemba Medika.
Deswita. (2014). Pengaruh teknik relaksasi guided imagery terhadap pemenuhan kebutuhan tidur anak usia sekolah di ruang rawat inap anak Rsud Prof. Dr.Ma hanafiah SM Batusangkar.Ners jurnal Keperawatan, 10(1), 110-117
Dharmayana, I. W., & Shaddri, I. (2019, April). The Effect of Guided Imagery Techniques to Decrease Students' Anxiety in Group Counseling Activities. In 3rd Asian Education Symposium (AES 2018). Atlantis Press. Haisah, S. Gambaran Kualitas Tidur Dan Gangguan Tidur Pada Lansia Di Panti Sosial Tresna Werdha Budi Luhur Kota Jambi. Jurnal Gambaran Kualitas Tidur Dan Gangguan Tidur Pada Lansia Di Panti Sosial Tresna Werdha Budi Luhur Kota Jambi. Kalsum, U.,
Herawati, T., & Hidayati, F. (2012). Pengaruh teknik relaksasi guided imagery terhadap penurunan tingkat kecemasan wanita dengan insomnia usia 20-25 tahun. Jurnal Makalah Kesehatan FKUB. Diunduh dari http://www. google. co. id/# hl= id&gsnf= 3&pq= pengaruh% 20teknik, 2(0).
Kamora, M., Utomo, W., & Hasanah, O. (2012). Efektifitas Teknik Relaksasi Guided Imagery Terhadap Pemenuhan Rata-Rata Jam Tidur Pasien Di Ruang Rawat Inap Bedah. Diunduh dari https://repository. unri. Ac. id/jspui/bitstream/1234567 89/1784/1/Efektifitas% 20teknik, 20.
Khasanah, K., & Handayani, W. (2012). Kualitas tidur lansia balai rehabilitasi sosial "mandiri" Semarang. Jurnal Keperawatan Diponegoro, 1(1), 189-196.
Khojasteh, F., Rezaee, N., Safarzadeh, A., Sahlabadi, R., & Shahrakipoor, M. (2016). Comparison of the effects of massage therapy and guided imagery on anxiety of nulliparous women during pregnancy. depression, 13, 14.
Kurniadi, A., Jehosua, S., & Ngantung, D. J. (2018). perbandingan gangguan tidur pada lanjut usia dengan dan tanpa penyakit parkinson. Jurnal Sinaps, 1(2), 10-19. Novarenta, A. (2013). Guided imagery untuk mengurangi rasa nyeri saat menstruasi. Jurnal Ilmiah Psikologi Terapan, 1(2), 179- 190.
Nugroho. (2012). Keperawatan Gerontik dan Geriatrik . Jakarta : EGC
Nursalam. (2014). Metodologi penelitian ilmu keperawatan pendekatan praktis Edisi 4. Jakarta: Salemba Medika
Padila. (2013). Keperawatan Gerontik. Yogyakarta: Nuha Medik.
Patasik, C. K., Tangka, J., & Rottie, J. (2013). Efektifitas Teknik Relaksasi Nafas Dalam Dan Guided Imagery Terhadap Penurunan Nyeri Pada Pasien Post Operasi Sectio Caesare Di Irina D Blu Rsup Prof. Dr. RD Kandou Manado. Jurnal Keperawatan, 1(1).
Polit, Denise. (2010). NursingResearch appraising Evidence for Nursing Practice, Seventh Edition. New York : Lippincott
Potter, P.A, Perry, A.G. (2005). Buku Ajar Fundamental Keperawatan : Konsep, Proses, Dan Praktik.Edisi 4.Volume 1. Jakarta : EGC
Priyoto. (2015). Nursing Intervention classification dalam keperawatan gerontik. Jakarta: Salemba Medika.
Purwanto, B. (2013). Herbal dan keperawatan Komplementer. Yogyakarta: Nuha Medika.
Shaddri, I., Dharmayana, I. W., & Sulian, I. (2018). Penggunaan Teknik Guided Imagery Terhadap Tingkat Kecemasan Siswa Mengikuti Aktivitas Konseling Kelompok. Consilia, 1(3).
Stanly. (2006). Buku Ajar keperawatan Gerontik. Jakarta : EGC
Suardiman. (2011). Psikologi usia lanjut. Yogyakarta: Gadjah Mada university press S
Suganya. (2016). Effectiveness of Guided Imagery in Reducing Examination Anxiety among Secondary School Students in South India: ISSN 2348, vol.3 Issu 3, no. 3. Sulian. (2018). Influence The Use Of Guided Imagery Techniques To The Anxiety Level Of Students Following Group Counseling Activities. Volume 1 No 3 : hal 68-78 Suryani. (2015). Metode Riset kuantitatif teori dan aplikasi pada penelitian bidang manajemen dan ekonomi. Jakarta: Prenada Media
Susanti. (2013). Pengaruh terapi imajinasi terpimpin terhadap perubahan tekanan darah pada pasien hipertensi di kelurahan karangsari kabupaten kendal. Prosiding konferensi nasional PPNI Jawa tengah.
Yantu, F., Hiola, R., Pakaya, A. W., & S Kep, N. S. (2014). Pengaruh teknik guided imagery (imajinasi terbimbing) terhadap penurunan nyeri pada pasien post apendektomi diruangan bedah rsud Prof. DR. Hi. Aloei Saboe Kota Gorontalo. KIM Fakultas Ilmu Kesehatan dan Keolahragaan, 2(3).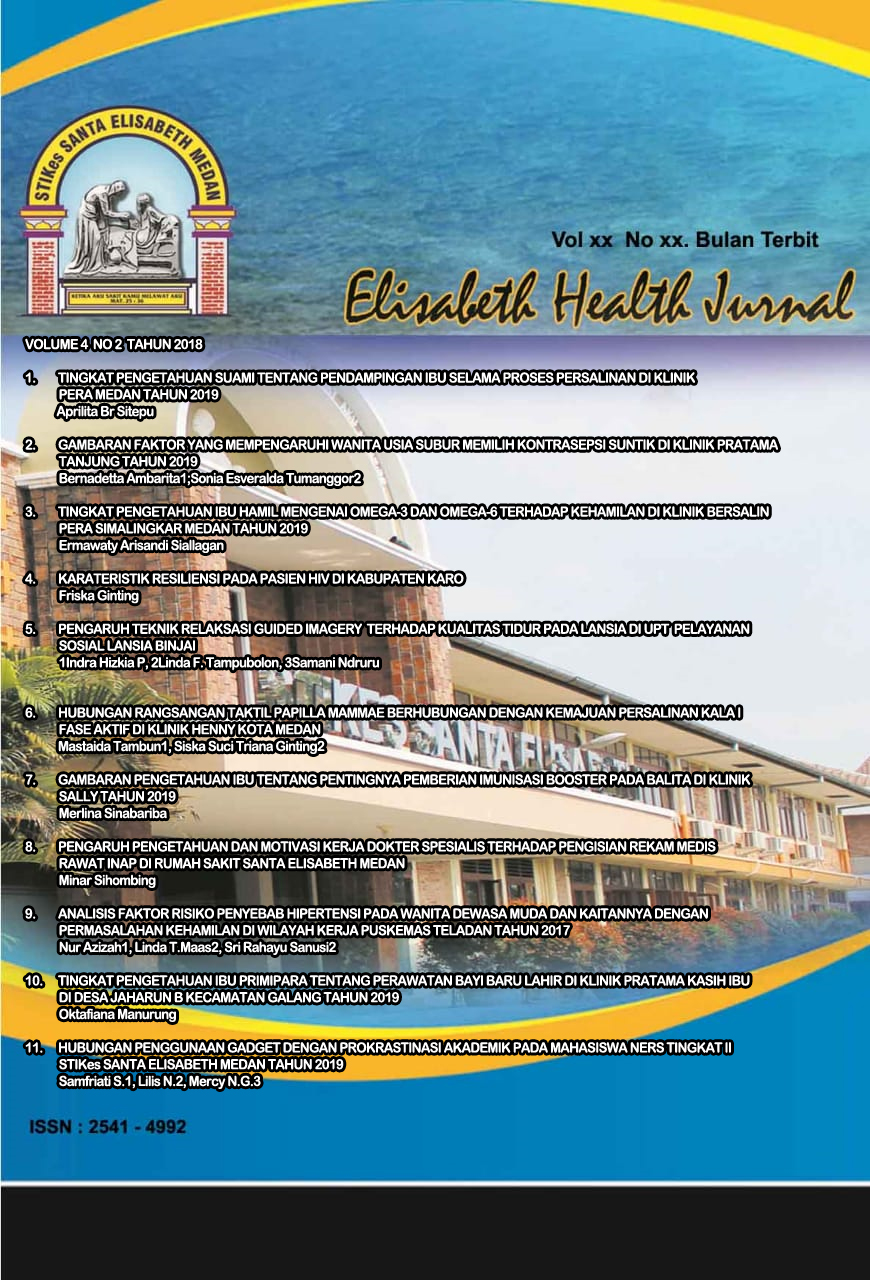 How to Cite
P, I., Tampubolon, L., & Ndruru, S. (2019). PENGARUH TEKNIK RELAKSASI GUIDED IMAGERY TERHADAP KUALITAS TIDUR PADA LANSIA DI UPT PELAYANAN SOSIAL LANSIA BINJAI. Elisabeth Health Jurnal, 4(2), 39-48. Retrieved from http://ejournal.stikeselisabethmedan.ac.id:85/index.php/EHJ/article/view/266