ANALISIS FAKTOR RISIKO PENYEBAB HIPERTENSI PADA WANITA DEWASA MUDA DAN KAITANNYA DENGAN PERMASALAHAN KEHAMILAN DI WILAYAH KERJA PUSKEMAS TELADAN TAHUN 2017
Nur Azizah

Universitas Sumatera Utara

Linda T Maas

Universitas Sumatera Utara

Sri Rahayu Sanusi

Universitas Sumatera Utara
Keywords:
Hypertension, Risk factors
Abstract
Hypertension is a generative disease which becomes a health problem throughout the world. Its prevalence in 18 years-old females is higher than that of males. The data from Riskesdas in 2013 revealed that the prevalence of hypertension in females was 28.8% and in males was 22.8%. it does not attack the aldery; it only attacks young adults. Uncontrolled hypertension can cause various complications in the entire organs and reproductive health in pregnancy and childbirth of young adult females. Goals: The research used observational analytic method with case-control design. It was conducted at Teladan Puskesmas, Medan from March until September, 2017. Method: The population was 96 hypertention young adult females who had been pregnant and visited Teladan Puskesmas. 48 of them were in the case gruop and the other 48 were respondents were in the control group (using total sampling technique). The data were analyzed by using univariate analysis, bivariate analysis with chi square test, and multivariate analysis with logistic regression test. Result: The result of the research showed that there was no influence of history of family on the incidence of hypertension (OR=1.6 95%CI= 0.683-4.1444), while obesity (OR=9 95%CI= 2.876-28.494), physical activity (OR=3.6 95%CI= 1.543- 11.626) had the influence on the incidence of hypertension. Obesity was the most dominant risk factor which influenced the incidence of hypertension in young adult females. Conclusion: It is recommended that young adult females keep their food intake stable with balanced nutrition and regular sport. Hypertension women should use hormonal contraceptive devices and have their blood pressure examined regularly so that complications can be detected early in preparing for pregnancy.
References
Donkor, Antony K E, Kofl A, Bemand, Paul O, Emmanuel, Rose. 2015. Prevalence of Hypertension Age in the Ashaiman Municipality in the Greater Accra Region of Ghana. University of Science and Technoloy, kumasi, Ghana.
Estiningsih S H. 2012. Hubungan Indeks Massa Tubuh dan Faktor Lain dengan Kejadian Hipertensi Pada Kelompok Usia 18-44 Tahun Di Kelurahan Sukamaju Depok Tahun 2012. Jakarta
Jackson C, Gerrie-Cor Herber-Gast, Wendy Brown. 2013. Joint Effect of Physical Activity and Risk of Hypertension in Women. University of Queensland. Australia Kemenkes RI., 2013. Riset Kesehatan Dasar (RISKESDAS). Balai Penelitian dan Pengembangan Kesehatan Kementerian Kesehatan RI.
Kemenkes RI, 2014. Infodatin Pusat Data dan Informasi Hipertensi. Jakarta.
Kemenkes.2015. Profil Kesehatan Indonesia Tahun 2014. Jakarta.
Nafisah D, Pudjo Wahjudi, Andrei Ramani., 2014. Faktor yang Berhubungan dengan Kejadian Hipertensi pada Akseptor Pil KB di Kelurahan Sumbersari Kabupaten Jember Tahun 2014. Fakultas Kesehatan Masyarakat.
Sastroasmoro, Sudigdo, Ismael Sofyan. 2016. Dasar-dasar Metodologi Penelitian Klinis Edisi ke 5 Revisi, Jakarta: CV. Sagung Seto.
Tierney, Lawrence M.,Jr, McPhee, Stephen J, Papadakis, Maxine A. 2002. Diagnosis dan Terapi Kedokteran (Penyakit Dalam). Salemba Medika: Jakarta.
World Health Organization. 2013. A Global Brief On Hypertension. Geneva.
Sastroasmoro, S., Ismael, S., 2016.Dasar-Dasar Metodologi Penelitian Klinis Edisi Ke-5, Jakarta: SagungSeto.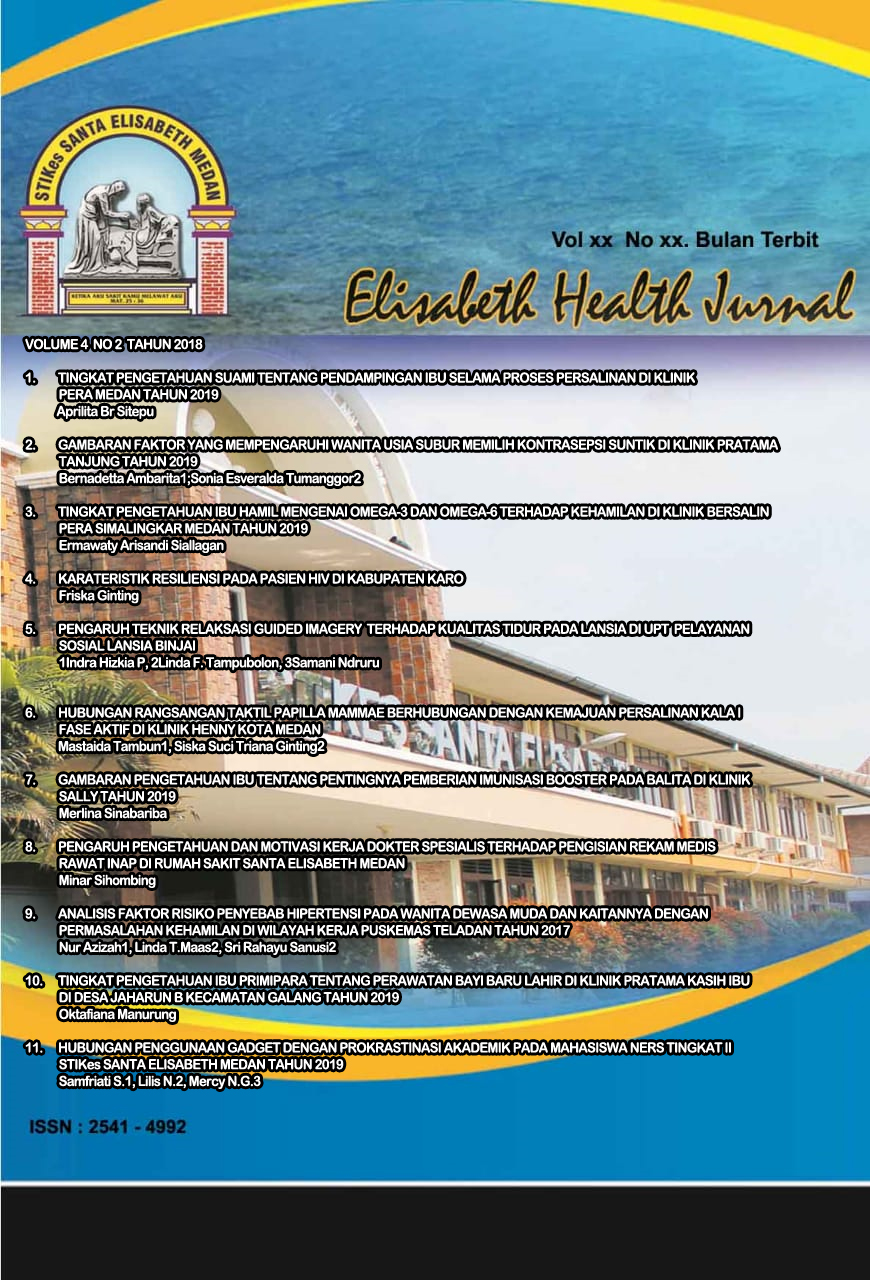 How to Cite
Azizah, N., Maas, L., & Sanusi, S. (2019). ANALISIS FAKTOR RISIKO PENYEBAB HIPERTENSI PADA WANITA DEWASA MUDA DAN KAITANNYA DENGAN PERMASALAHAN KEHAMILAN DI WILAYAH KERJA PUSKEMAS TELADAN TAHUN 2017. Elisabeth Health Jurnal, 4(2), 80-88. Retrieved from http://ejournal.stikeselisabethmedan.ac.id:85/index.php/EHJ/article/view/270