PENGARUH RANGE OF MOTION AKTIF-ASSISITIF: LATIHAN FUNGSIONAL TANGAN TERHADAP PENINGKATAN KEKUATAN OTOT PASIEN STROKE NON HEMORAGIC DI RSUP HAJI ADAM MALIK MEDAN
Imelda Derang

STIKes Santa Elisabeth Medan
Keywords:
Keywords: Muscle Strength, Range Of Motion On-Assistive Functional Exercise Hand, Stroke
Abstract
Introduction. Stroke is a central nervous system disorder that most often causes paralysis of the limbs, due to attacks on neuromuscular nerves that cause muscle weakness, so it takes practice that is ROM Active-Assistive hand-functional exercises. This study aims to determine the effect of Range Of Motion Active-Assistive Functional Exercise Hand on Increasing Muscle Strength In Non Hemorrhagic Stroke Patients at Haji Adam Malik General Hospital Medan.
Method. research design was Quasi experimental with Pretest-posttest control group design approach. The number of samples was 30 respondents according to the inclusion criteria.
Result. Wilcoxon statistical test results obtained the highest results on the pretest with the category of Fair (value 3) and postest with Good category (value 4) obtained p value = 0.001 where the value of p value α (≤0.05) so it can be concluded there is an effect Range Of Motion Active -Assistive Functional Hand Exercise on Increasing Muscle Strength in Non Hemorrhagic Stroke Patients and for the control group the results obtained p = 0.175, which means no increase in muscle strength before and after the study. Mann Whitney Test with p value of 0.001 where p value α (≤0,05)
Duscussion. can be concluded that there is a significant difference between treatment group and control group. Subsequent studies are suggested to perform the same type of research on the range of motion of non hemorrhagic stroke patients.
References
Adrian, Goldzmith dkk. (2011). Esensial Stroke. Jakarta: EGC
Arikunto, Suharsimi. (2013). Prosedur Penelitian, Suatu Pendekatan Praktik. Jakarta: Rineka Cipta
Brunner & Suddart's. (2010). Textbook of Medical-Surgical Nursing. US: Raven.
Creswell, John. (2009). Research Design Qualitative, Quantitative, and Mixed Methods Approaches. American: SAGE
Derang, Imelda. (2014). Tesis: Pengembangan Panduan Range Of Motion Aktif-Asistif: Spherical Grip Diruangan Stroke Center Rumah Sakit Santa Elisabeth Medan.
Derison, Marsinova. (2016). Latihan Range Of Motion (ROM) Pasif Terhadap Rentang Sendi Pasien Pasca Stroke. Bengkulu. Vol. VII No. 2
Dewi, Rut (2011). Penyakit Pemicu Stroke. Yogyakarta: ISBN
Feigin, Valery et all. (2015). Update on the Global Burden of Ischemic and Hemorrhagic Stroke in 1990-2013 The GBD 2013 Study. Neuro-epidemiologi. Karger AG, Basel
Ghifari, Alimri dkk. (2015). Gambaran Tekanan Darah pada Pasien Stroke Akut di Rumah Sakit Umum Haji Medan. Vol. 2. Medan: E-ISSN
Grove, Susan et all. (2013). Understanding Nursing Research Building an Evidence-Based Practice. Sixth edition. Cina:Elsevier
Hidayat, Arif. (2011). Metode Penelitian Kesehatan Paradigma Kuantitatif. Surabaya: Health Books Publishing
Irfan, Muhammad. (2010). Fisioterapi bagi Insan Stroke. Yogyakarta: Graha Ilmu
Jiricha, Moech. (2009). Activity tolerance and fatigue pathophysiology: concepts of altered health states. In: Porth, CM (ed) Essensials of Pathophysiology: Concepts of Altered Health States Philadelphia, PA: Lippincott Williams & Wilkins
Junaidi, dkk. (2011). Stroke Waspadai Ancamannya Panduan Stroke Paling Lengkap. Yogtakarta: Penerbit Andi
Kwakkel, Gert et all. (2011). Constraint-induced movement therapy after stroke. USA: thelancet. Vol. 14
Luklukaningsih, Zuwiya. (2009). Sinopsis Fisioterapi Untuk Terapi Latihan. Yogyakarta: Mitra Cendekia Press
Ningsih, Nurna. (2011). Asuhan Keperawatan Pada Klien Dengan Gangguan Sistem Muskuloskeletal. Jakarta: Salemba Medika
Madic, Dejan et all. (2017). Reability and Usefulness of Bulb Dynamometer
For Measuring Hand Grip Strength in Preschool Childern. ActaKinesiologica
Muhammad, Inam. (2015). Hubungan Antara Jumlah Trombosit dan Early Neurological Deterioration End pada Pasien Stroke Iskemik Akut di RSUD Dr. Abdul Aziz Singkawang. Jakarta. Vol.I
Muttaqin, Arif. (2008). Asuhan Keperawatan Pada Klien Dengan Gangguan Sistem Persyarafan. Jakarta: Salemba Medika
Notoadmodjo, Soekidjo. (2012). Metodologi Penelitian Kesehatan. Jakarta: Rineka Cipta
Nursalam. (2013). Metodologi Penelitian Ilmu Keperawatan. Jakarta: Salemba Medika
Polit, Denise. (2010). Nursing Research Appraising Evidence For Nursing Practice. Seventh edition. Newyork:Lippincott
Raj, Arvind et all. (2016). Effect of Task Based Mirror Box Therapy on Hand Function in Stroke Patients. India: International Research Journal of Medical Sciences. Vol. 4
Ika, Rahayu. N. (2015). The Influence of Range of Motion Exercise to Motor Capability of Post-Stroke Patient at the Gambiran Hospital. Kediri: P-ISSN
Sani, Fathnur. (2016). Metodologi Penelitian Farmasi Komunitas dan Eksperimetal. Yogyakarta: Deepublish
Sugiyono. (2016). Metode Penelitian Kuantitatif, Kualitatif, dan R&D: Bandung: Alfabeta
Surono & Saputro. (2013). Hubungan antara dukungan keluarga dengan motivasi untuk melakukan ROM pada pasien pasca Stroke di Wilayah Kerja Puskesmas Karanganyar Kabupaten Pekalongan. Diakses pada 1 Januari 2015
Takeda et all. (2014). Near-Infrared Spectroscopy and Motor Lateralization after Stroke: A Case Series Study. Japan: International Journal of Physical Medicine & Rehabilitation
Victoria, Arlies et all. (2014). Pengaruh Latihan Lateral Prehension Grip Terhadap Luas Gerak Sendi Jari Tangan pada Pasien Stroke di RSUP Dr. H Soewondo Kendal. Semarang. Journal
Wahyuningsih. (2012). Pengaruh Range Of Motion Aktif Clyndrical Grip terhadap Peningkatan Kekuatan Otot pada Pasien Stroke di SMC RS. Telogorejo. Semarang
Wardhana, dkk. (2012). Strategi Mengatasi dan Bangkit Dari Stroke. Yogyakarta: Pustaka Belajar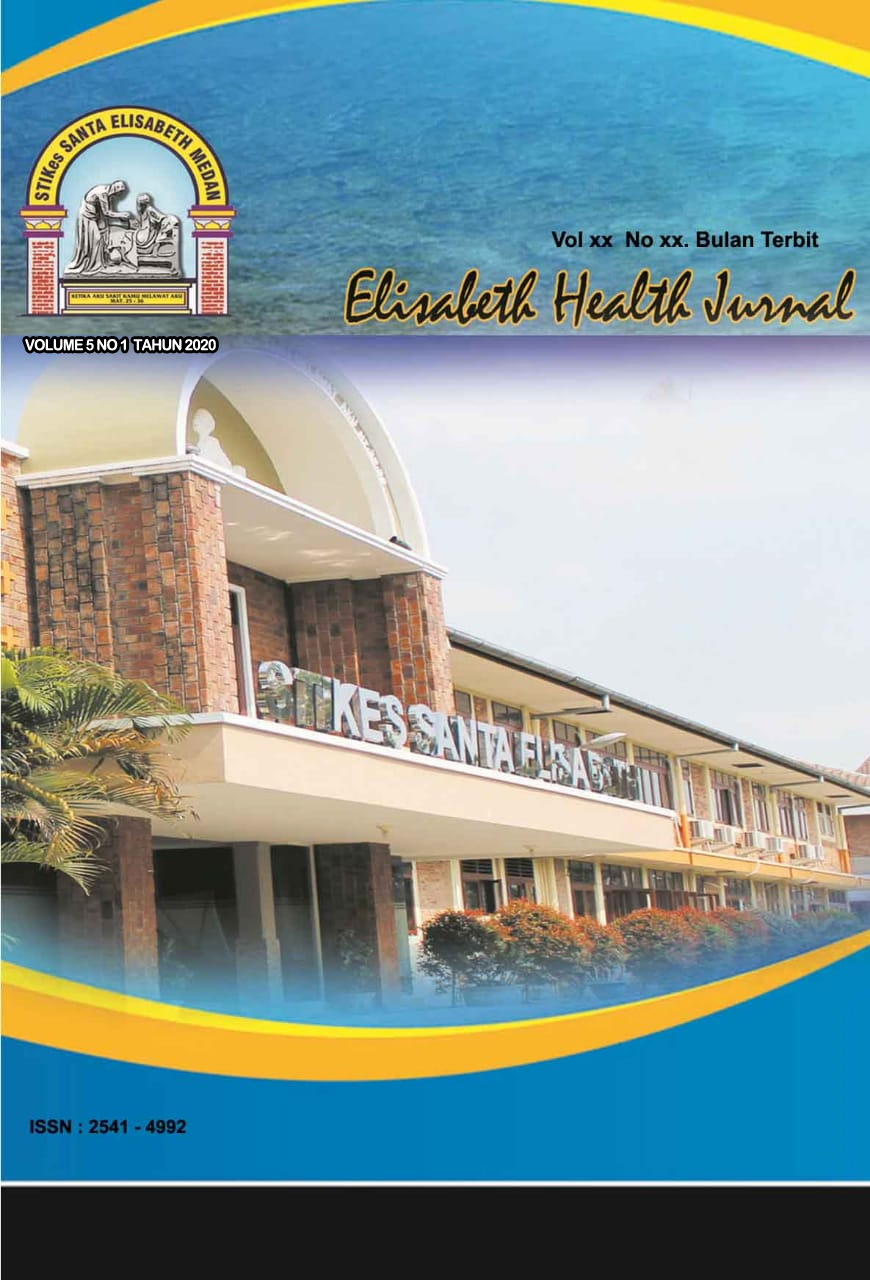 How to Cite
Derang, I. (2020). PENGARUH RANGE OF MOTION AKTIF-ASSISITIF: LATIHAN FUNGSIONAL TANGAN TERHADAP PENINGKATAN KEKUATAN OTOT PASIEN STROKE NON HEMORAGIC DI RSUP HAJI ADAM MALIK MEDAN. Elisabeth Health Jurnal, 5(1), 80-89. https://doi.org/10.52317/ehj.v5i1.284